"Unlocking the harmony of wellness and education within a child has become a life-long journey. I'm so humbled to be able to impact the lives of our future generation, with the help of generous partnering with some of the most passionate and driven philanthropists globally. "  Dr. Nadine Wong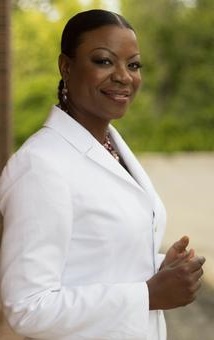 Dr. Nadine Wong - ​ Trichologist, Clinical Psychotherapist, and Dr. of Integrative Medicine.
It was over five years ago, I received a face book invitation from a past school mate of Franklin Town Primary School in Kingston, Jamaica, who proceeded to convey  the deplorable state of the historic school.
It was enough to make me return to my alma mater at 4 Victoria St, Kingston, Jamaica that I had not visited for over 30 years, to witness its state of dilapidation.  I noticed the aging infrastructure, limited academic resources, and an underutilised landscape.  Not to mention the students seemed unable to focus because they came to school hungry.
Upon my return to Toronto, Canada, where I presently reside, I asked my Family to contribute $50.00 each. The Wong Family then was known as the dynasty that included a total of 20 students who attended the school over the course of two generations. Along with other supporters of the vision to bring restoration to the 100 year old monumental and notable institution we were able to raise $3000 US dollars within a month. This was the genesis of the Alabaster Gates Children's Charity.
The first project was to select an area of the school's infrastructure to rebuild, which provided more storage, the principal's office, painting of the exterior, and landscaping a green garden.
The second project was to offer a school bursary to the highest achievers and most improved student in grade 6 going on to high school.  The bursary's partnership was formed with Kingston Book Store.
The third project was birthed from a conversation with a grade 4, male student, who was identified as "rude". I proceeded to interact with this student and asked him, what he would like to be as an adult. Children are natural dreamers and visionaries and represent Jamaica's rich diversity and creativity in culture, education, athletics, entertainment, and entrepreneurship.  His answer was unsettling: he stated that his mother told him he does not need education, because she is sending for him to go "foreign" and upon his arrival he will be going on welfare, and he can purchase everything at the dollar store expect meat.
The third project was created to offer children in Jamaica an opportunity to virtually travel the world from their classroom without a passport through the charity's International Educational Project that mirrors Pen Pals, via Skype. The charity partners with students in Canada from various school boards, to present on social studies that promote cultural awareness, develop their interpersonal skills, and global awareness.
The International Education Project is viewed by schools in Dubai, Africa, Australia, America, and other Caribbean countries that have expressed an interest in the project.
The charity's initiatives are executed through:
The bursaries which are hand delivered to the recipients at the school's annual graduation with a backpack filled with everything that a student needs for higher education.
To promote balanced nutrition, seeds are donated to each Jamaican school who participates in the International Education Project.  Barrels filled with donations of academic, medical and food items are shipped to schools so they are better equipped.
The International Education Project is streamed quarterly or upon invitation and accommodation of education partners.
My vision for Alabaster Gates Children's Charity is to make resources available to raise a generation of visionaries and to educate children beyond their limitations.
I would like to thank my family with such rich patriotic values and the sponsors:  Jamaica Tourist Board, Fly Jamaica, West Jet, Caribbean Airlines, BMW (Yonge and Steels), Western Union, D& N Enterprise, Mackenzie Seeds, Liguanea Club, Traveler Beach Resort, and Port Royal Freight.
I appreciate the continuous support from the Jamaica- Canadian Consulate General, Royal Bank, Education Without Boarders (Toronto), Jamaica, Minister of Education, Toronto, Catholic and Durham District School Boards, and School in Jamaica.
I value my peers' tenacious effortless support to the charity's initiatives to gather and to raise a village of wholesome men and women through their time and monetary donations:
Horace MacDonald, Karen Green,  Sherryll- Ann Alexander, Michelle Durrant-Pryor, Orville Black, Anthony Folkes, Aubin Simmons, Dean Williams, Ray James, Michael Cobner, Sterling Clayton, Dr. Stephan Tannis,  Owen Leslie,  Carol Carr, Kiwanis Club ( Toronto Sunshine Chapter), Bryon Henry, Nigel Grandison, Anthony Plummer, Bernard Lee, Donovan Simmonds, and other private donations.
MISSION & VISION
No need is too small and no voice is too quiet to be heard. We will devote the time and energy necessary to educate, advocate and feed.
School Supplies and uniforms for every child
Scholarships for students going to College or University
Every student will have a minimum of two hot meals per day
Local and International Mentoring for students
Increased Corporate partnerships and donations
Annual gala to raise funds
To establish International Satellite Offices 
FOUNDATION HISTORY

2010 - In May of that year Dr. Wong visits to her childhood home in Jamaica and an encounter with a young boy confirmed that it was imperative she does not wait to start the charity.
Alabaster Gate Children's Charity was launched in June.
2011 - Donations from Mr. Philip Rose and The Jamaica Tourist Board, WestJet Airlines
2014 - Alabaster Gate Children's Charity partners with Digicel Jamaica for The International Education Skype Project. Donating Partners now include McKenzie Seeds and Fly Jamaica